Dental Veneers
---
Porcelain laminate veneers
Composite Veneers
Get Your Smile Back With Dental Veneers
A chipped, broken, discoloured, or yellow teeth in the front row is always a factor that negatively affects confidence and lifestyle. It can change the way we talk, smile, eat, and hold up our face.
Home bleaching or In-Office bleaching by your dentist can make it white again, but the result will be temporary, and your teeth can become stained again. If you're looking for a more comfortable and effective way to whiten your teeth or fix your broken teeth and brighten your smile, dental veneers will be the right option for you.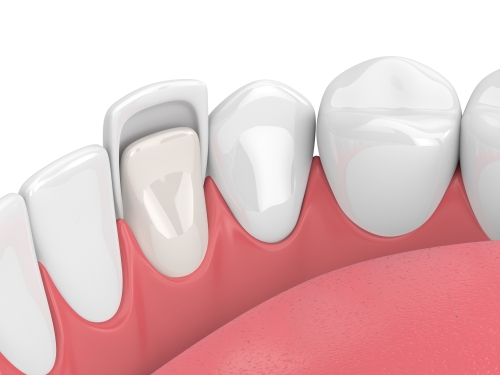 What is Dental veneer?
A dental veneer, also known as porcelain laminates, is an ultra thin layer of porcelain that is designed to fit over the front surface of a tooth. This method is applicable for correction of stained, fractured, decayed, chipped, malformed unaesthetic teeth and also to close spaces between front teeth. It can be done to correct the defect in a single tooth or all the visible front teeth if needed.
Veneers can also be used to cover small gaps between teeth and correct the misaligned or irregular teeth when patient wants immediate results and does not opt for dental braces.
What are the different types of veneers?
Veneers can be
Custom made (or)
Preformed (Ready made)
Custom made veneers are the best as it is made to the dimensions, shape and colour of a particular patient. Unlike ready made veneers,they are very strong.
What are veneers made of?
Most natural-looking veneers are made of porcelain, and it can improve the colour, shape, size, and position of your teeth. However, thereare natural coloured composite materials that are more economical but can get stained in the long run unlike the porcelain laminates. Porcelain laminate veneers are the strongest restorations.
What Are the Advantages of Dental Veneers?
To mask the discolouration and stains in teeth and regain the natural colour
Correcting crooked or uneven teeth
Closing gaps between teeth
Treat gummy smiles
Treating teeth that are chipped, worn or ground
Treating old, discoloured bonding that needs to be replaced
Restoring the beautiful and confident smile
Easy to maintain
Short treatment time
Long-lasting
What is the procedure for veneers?
Our expert dentist first discusses with the patient to understand what they feel about their smile and how to improve it. Photographs of the patient and impression of the teeth are made in the first visit. A wax mock up of the corrected smile is shown to the patient for approval and then the actual procedure is done.
How are teeth prepared for a veneer?
During the process, your dentist may remove a small amount of tooth enamel on the front surface, to make sure that the veneer is bonded permanently on the surface of the teeth. The amount of enamel removed will be equal to the thickness of the veneer used. This is to make sure that the tooth stays in the same size. The ideal thickness for porcelain veneers is between 0.3 mm to 1 mm.
How to take care of your new smile?
Use a quality toothbrush and change it regularly
Floss every day
Rinse using a mouthwash
If you love tea, coffee, and wine, be extra careful with your teeth cleaning. Composite dental veneers can stain more easily unlike porcelain veneers.
Quit smoking as tobacco is another cause of tooth staining.
Visit your dentist regularly for tooth cleaning.


Veneers are very popular among Hollywood stars and are called as "Hollywood smiles". Componeers, Lumineers, Instasmile, Clip on veneers, Snap-on smiles are some of the Veneers readily available in the market, which can be directly cemented on to the teeth.
If you want to get rid of your broken or yellow teeth permanently, dental veneers are the option. A discussion with the experts of Smile and Glow can help you to choose the right procedure and get your dream smile.
Authored By : Dr. S. Hemamalathi and Dr. K. S Senthil Kumar