Immediate Loaded implants/ Same day implants
---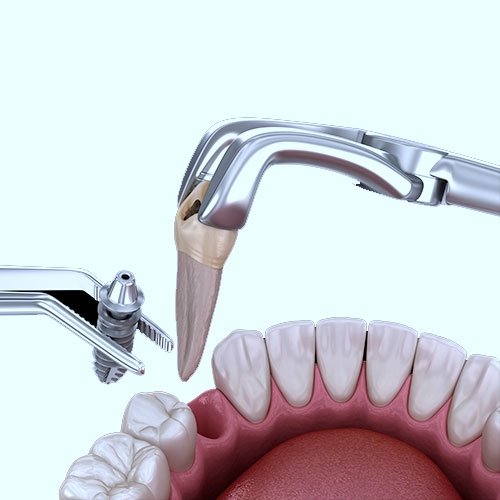 The implant is placed immediately either into the socket after tooth removal or in the bone of an already existing tooth gap. It is usually indicated for replacing teeth in the aesthetic zone or the front teeth.
Benefits of Immediate implants
Preserve the natural bone and soft tissue.
Excellent long term aesthetics
Reduces treatment time
Implants can be given on same day
Final crown can be given in 3 days
Procedure for immediate implants
After a detailed history and clinical examination, preliminary impressions, X-rays and CBCT scans are taken to plan for the implant.
The procedure is done under local anesthesia.
The tooth is removed carefully without damaging the bone.
The extracted socket is thoroughly curetted and disinfected to remove any infection using irrigants.
Implant is placed in the socket
A temporary replacement tooth crown is given and after a few days(3-4 days) permanent crown is placed.
Permanent crown placement can also be delayed for 3 months for the complete healing of the bone.
Since the implant is immediately restored with a crown, it is called as immediate loaded implants.
How to Care for Implants
Brushing and flossing just like natural teeth.
Regular dental cleanings and check-ups once every six months.
Authored By : Dr. S. Hemamalathi and Dr. K. S Senthil Kumar