Dr. K. S Senthil Kumar
---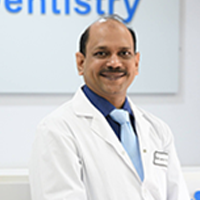 Dr. K. S Senthil Kumar (Orthodontist, Neuromuscular Dentist, Implantalogist)
Dr. K. S. Senthil Kumar, founder and Director of Smile and Glow dental healthcare Pvt Ltd has been creating beautiful smiles for patients and celebrities in India and UAE for more than 25 years. He is one of India's most recognized and well-established orthodontists popular for his diverse experience in TMJ disorders, neuromuscular dentistry, and implantology.
Dr. K. S. Senthil Kumar is one of the few dentists in India who is specialized in treating Temporomandibular joint disorders (TMD). He provides treatment with contemporary types of equipment like J-5 TENS machine and T-scan in correlation with SAM articulators for which he is specially trained in Germany. These advanced methods of treatment help in achieving predictable long term stability in a relaxed TMJ position, thus achieving a one-time solution for TMD, thereby creating better care and lifelong well being for the patients.
Dr. K. S. Senthil Kumar has been trained extensively in different implant protocols available around the globe and also in adjunctive implantology surgical procedures for maxillary sinus lift and bone grafts. He has gained tremendous experience in successfully placing dental implants. He is an expert at immediate loading implants, All-on-4 / All-on-6 Techniques, Implant-supported dentures, and so on.
Education and Specialization
He finished his BDS in April 1995 and acquired his MDS in Orthodontics in 1999 from the Tamil Nadu Dr.MGR Medical University, followed by a Fellowship in Implant and Aesthetic dentistry from Nobel Biocare (Sweden).
He has also undergone training in Bio-Prosthetic functional denture Systems (BPS) and CAD-CAM dentures. His area of interest is full mouth rehabilitation, Temporomandibular Joint Disorders (TMD), sleep disorders, and surgical orthodontics.
Milestones
With the vision of imparting knowledge to the budding caregivers, he served as a Professor in Orthodontics department in Meenakshi Ammal Dental College, Chennai. He has over 19 years of teaching experience for both Post Graduates and Undergraduate students. He is an esteemed speaker at many national conferences.
DR. K. S. Senthil Kumar has also conducted several hands-on workshops in many reputed dental colleges in India. He was appointed as an examiner for BDS and MDS exams in various reputed Universities and Colleges in India. He conducts specialized training for Surgical Orthodontics, TMJ disorders, oral and maxillofacial surgeons.
He is a dynamic personality in both his personal and professional spheres of life and possesses core values of bringing compassion and passion to his day to day work. He has contributed many publications in Journals of Orthodontics and has done lots of research work in the field of Dentistry. He has attended many courses and conferences conducted all over India and has many best paper awards to his credits.
Committed to offering the highest quality of care to the society, DR. K. S. Senthil Kumar, along with Dr. Hemamalathi, started Smile and Glow dental healthcare Pvt Ltd. This hospital has played an impeccable role in creating healthy and happy smiles in all age groups since 1997 and continues to do so.
Professional affiliations
Member of:
IDA (Indian Dental Association)
IOS (Indian Orthodontic Society), and
ISDR (Indian Society for Dental Research)
ICCMO (International Cranio Cervical Mandibular Orthopaedics)