Laser Dentistry
---
Are you scared of bleeding and the pain that is caused during dental procedures? Don't worry. Laser Dentistry is the best option for you. Laser dentistry is a minimally invasive option for people facing gum surgery, cavity treatment, or other oral problems. Laser dentistry is a more comfortable treatment for several dental issues involving hard or soft tissues compared to drills and other tools. Laser dentistry uses highly concentrated light beams to alter or remove tissues. Your dental specialist will use lasers in a variety of treatment procedures involving removal of overgrown tissue inside of the mouth, to whiten your teeth, or to reshape your gums. Laser Dentistry is more effective, comfortable, and cost-effective than other methods of treatments.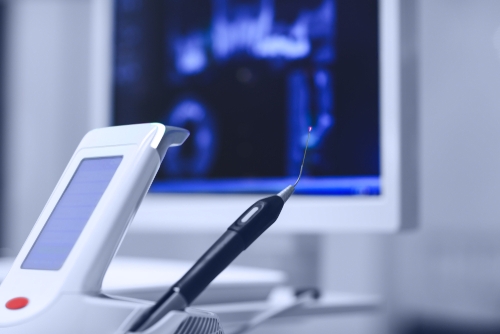 Lasers deliver energy in the form of light. During a surgical procedure, the laser act as a cutting instrument or as a vaporizer for tissues that it comes in contact with. During teeth whitening procedures, the beam enhances the effect of tooth-bleaching agents.
Laser Dentistry can treat:
Root canal infections
Can remove gum inflammation
To reshape your gum
To expose your wisdom teeth
To remove the throat tissues that cause Sleep Apnea
Can treat the damaged tissues and also regenerate them
Can remove benign oral tumors
Benefits of Laser Dentistry:
Less bleeding compared to the traditional procedure as the beams can coagulate the exposed blood vessels, thus reducing the need for sutures.
Minimal discomfort as there is no need for drilling
Less damage to the surrounding tissues
Faster healing than traditional treatment
Cost-effective
Some of the procedures do not require any anesthesia
Tissues can be regenerated
Lasers are mainly useful for soft tissue surgeries as it avoids the need or use of BP Blade which causes anxiety among certain patients
Laser dentistry must be performed by a dental specialist who is qualified to operate the technology and takes appropriate safety measures, such as providing you with protective eye wear during the laser treatments.
Side-effects such as carbonization and cracking have sometimes been reported with the use of laser, but these are relatively rare cases.
Discuss your laser surgery options with your dental specialist today. Even though Laser Dentistry is the best option, it may not be suitable for all kinds of teeth problems, so discuss with your specialist before you go for the procedure. At SMILE AND GLOW DENTAL HEALTH CARE HOSPITAL Chennai, our expert dental specialists strive to provide you with the world-class dental treatments.
Authored By : Dr. S. Hemamalathi and Dr. K. S Senthil Kumar