Periapical surgeries
---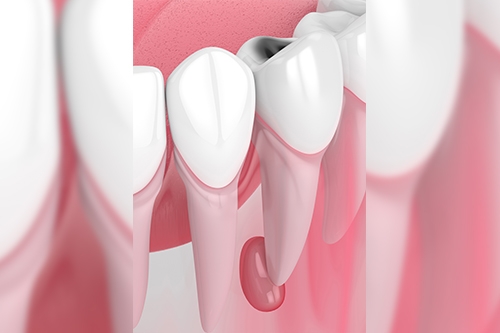 Periapical surgery is a standard surgical procedure that's used as a last resort when conventional Root Canal treatment fails. It is used to heal periapical lesions and enable tissue regeneration of the periapical region. It is often considered to be an extension of the root canal treatment and not a separate procedure.
Periapical region refers to the area that surrounds the apex of the root of the tooth. Surgery in the periapical region is meant to remove cysts or granulomas from the apical (tip of the root) region .
Despite an RCT/Repeat RCT if there is persistent pain, inflammation and the presence of draining sinus then it's an indication that periapical surgery is required.
In the event of root perforations or an extrusion of the obturation ( a protrusion of the material used for root filling ) then periapical surgery is indicated. A marked curvature, calcification or fracture of instruments in the canal can also necessitate the same treatment.
The procedure involves raising the gingival(gum) flap and drilling a hole into the bone to reach the lesion. Once the lesion is removed, the root end tip is sectioned and sealed properly with MTA or any other Bio- regenerative cement . The flap is closed and sutured. The objective is to secure a tight seal at the root end. This would prevent micro-organisms from entering the root canal and causing infections.
Use of a surgical microscope helps in magnifying and illuminating the surgical area. It also facilitates gentle incisions, flap elevation and osteotomy (bone removal) limited to a small area. A microscope enables the use of small sonic/ultra sonic micro tips that assist in precision surgery. Microscope aided surgery hence is highly recommended in order to detect additional canals, fractures on the root, reduce trauma and assist faster healing.
A periapical lesion if left unattended would result in recurring infections and bone damage thus endangering the teeth adjacent to the affected one as well. Periapical surgery thus facilitates removal of the lesion while retaining the functionality of the tooth.
Authored By : Dr. S. Hemamalathi and Dr. K. S Senthil Kumar