Invisalign
---
The invisible way to straighten your teeth
Invisalign is a clear aligner which is virtually invisible and others do not even get to know that you are wearing them. Invisalign is very popular among teens and adults who do not want to show any braces, even the tooth-colored ceramic brackets.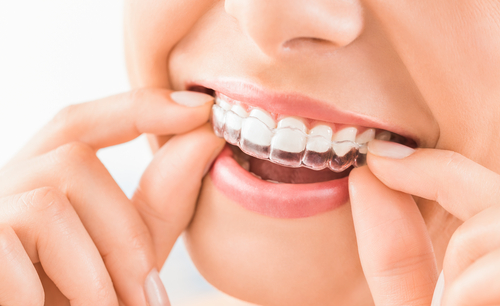 Our orthodontist and Invisalign certified dentist will take a quick and precise 3D digital scan of your teeth using an intra oral digital scanner. And will design a custom treatment plan with step by step movements of your teeth. Using the modern CAD-CAM technology, a series of invisalign aligners to allow minor tooth movement will be prepared. Sequential wearing of these splints will result in
gradual movement of teeth to get an appealing aesthetic smile. Invisalign clear aligners are made of patented SmartTrack® material which works faster and are more comfortable and easier to put on and take off.
How long does invisalign treatment take?
You can start to see results from a few weeks of treatment. Depending upon the complexity of the case the entire treatment can range from six months to 1.5 years.
Are you a right candidate for Invisalign?
More and more people around the world are getting their teeth straightened using Invisalign. It is an excellent treatment option for mild to moderate crowding and spacing. Invisalign is the ideal choice for those who are not ready to wear braces.
Benefits of Invisalign
Supreme esthetics
Comfortable and painless
50% Faster results
Doesn't interfere with your daily activities
Easy to clean and maintain
Removable
You can eat, drink and enjoy your food
Authored By : Dr. S. Hemamalathi and Dr. K. S Senthil Kumar